Which is Better? Bonita Bay, Talis Park, Tiburon, or Mediterra?
Posted by Sean Lorch on Thursday, May 25, 2023 at 11:00 AM
By Sean Lorch / May 25, 2023
Comment
The Best Golf Clubs in North Naples & Bonita Springs FL: Bonita Bay, Talis Park, Tiburon, or Mediterra?
As a golfer, former real estate appraiser, and real estate agent of 19+ years, I've analyzed four of the top-rated golf clubs in the area to help you find your perfect golf club to join and live in. All four of these communities are top-notch facilities, with championship golf courses, resort-style pools, tennis courts, fitness centers, spas, and private dining. Reach out to me anytime to talk shop. My personal cell is 239-298-6760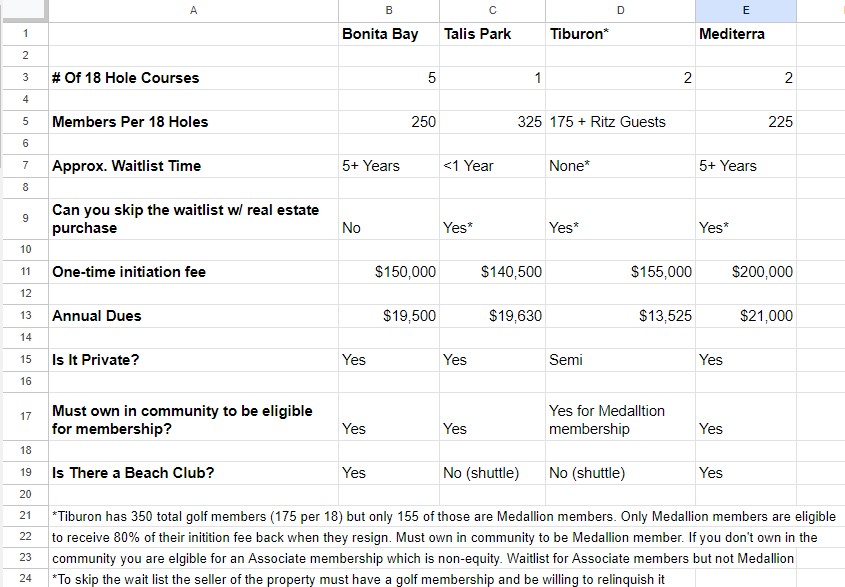 Bonita Bay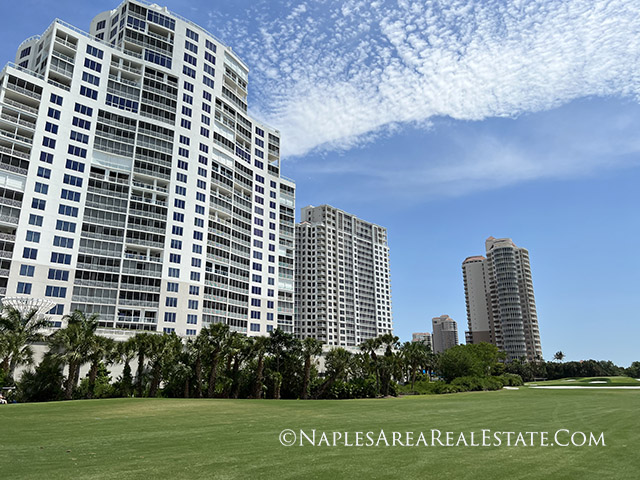 The largest of the four developments, Bonita Bay offers single-family homes, coach homes, villas, and luxury highrise condos on 2,400 private acres in Bonita Springs. Bonita Bay also has 12 miles of walking and biking trails, pickleball, and a private beach club. With not one or two, but a most impressive five 18-hole golf courses (three on-site, two nearby in North Naples) and only 1,250 golf members, (250 per 18 holes) you'll have no problem getting a tee time when you're a member at Bonita Bay. Bonita Bay is non-bundled, meaning you only have to buy a membership if you want to use the club's amenities. There are several tiers of memberships at Bonita Bay. As of 2023, the sports membership, which offers limited golf, starts at $60,000 initiation fee and annual dues of $10,110. Full golf memberships at Bonita Bay are $150,000 for the initiation fee with annual dues of $19,500. As of May 2023, there is a multi-year waitlist for full golf memberships. The biggest disadvantage to Bonita Bay is there is no way to skip the multi-year wait list for a full golf membership. The only workaround is to join as a sports member (no waitlist) and play a limited amount of golf.
View Available Bonita Bay Real Estate
Talis Park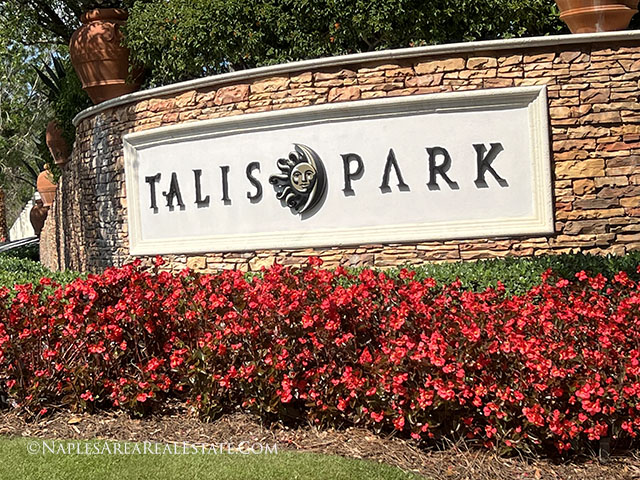 Located in North Naples, Talis Park offers luxurious single-family homes and condos with a Mediterranean flair. Enjoy 18 holes of championship golf on Talis Park's recently returfed golf course. With only 350 memberships you won't have any trouble getting your tee-time. The waitlist is dramatically shorter than Bonita Bay & Mediterra, and Talis Park has the lowest initiation fee at $140,500 for full golf members. Annual full golf membership dues are $19,630, and a sports membership is $7,800.30 after a $37,000 initiation fee. The community requires at least a sports membership for all homeowners. Talis Park does not have a beach club, but does have a beach shuttle. The biggest disadvantage to Talis Park is there is only one 18-hole course.
View Available Talis Park Real Estate
Tiburon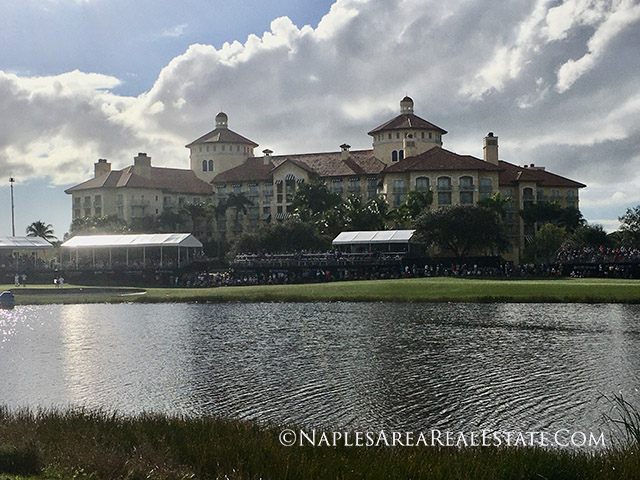 Fans of professional golf will recognize Tiburon as the home of the LPGA's CME Tour Group Championship and the PGA's QBE Shootout. Located in North Naples, Tiburon features two championship 18-hole golf courses known as the Black Course and the Gold Course. Membership is capped at 350 members (175 members per 18 holes). However, the courses are also open to guests at the Ritz-Carlton & the public, making Tiburon semi-private. Each day, members only are allowed on one of the 18-hole courses while the Ritz Carlton guests and the public are allowed on the other, so members do always have one course to themselves. As of May 2023, there is no waitlist for Medallion membership at Tiburon. Social memberships start at $5,275 annually after a $30,000 initiation fee, and Medallion memberships are $13,625 after a $155,000 initiation fee. Tiburon is a non-bundled golf community, so owners are not required to purchase a membership. The biggest advantage to Tiburon is, for Medallian golf members, it is an equity club so you get back 80% of your initiation fee. This is the only club in the area that I am aware of that does this. There is a 2nd type of full golf membership in Tiburon which is the Associate membership. This does not require you to own a residence but with this membership your initiation fee is non-refundable. The biggest disadvantage to Tiburon is that the tennis courts and golf courses are also used by non-members. Each day members have one of the courses to themselves and Ritz guests and the public play whichever course is not being played by the members.
View Available Tiburon Real Estate
Mediterra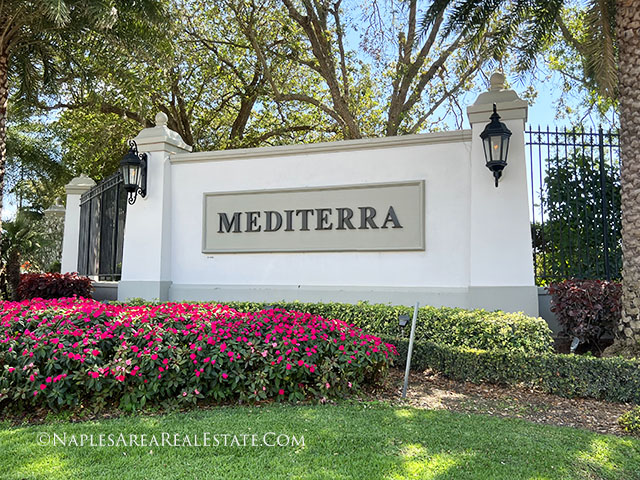 Straddling North Naples and Bonita Springs, Mediterra offers detached villas, coach homes, and single-family estate homes amid two spectacular 18-hole golf courses and lush preserve landscapes. With only 225 memberships per 18 holes, Mediterra is among the lowest-density private clubs around. The challenge is Mediterra notoriously has a 5+ year wait list for full golf membership. However, if you buy a home from a golf member who is willing to let their membership go, you may purchase the membership thereby skipping the waitlist. There is a $200,000 joining fee for new golf members, and annual dues are $21,000. The joining fee for a lifestyle membership is $15,000, and annual dues are $4,320. All homeowners in Mediterra must purchase at least a lifestyle membership. Medaterra also offers sports and beach club memberships with golf memberships providing the benefits of all the memberships.
View Available Mediterra Real Estate
Which North Naples Golf Community is Best?
It depends on your individual preferences but Mediterra makes a great case for the following reasons:
•You can skip the multi-year waitlist by purchasing a property where the seller has a golf membership they are willing to give up (reach out to me for a list as most Mediterra listings do not offer this)
•Only 225 members per 18 holes
•Totally private and very exclusive
Tiburon is very attractive as it has national notoriety, lower golf dues, little to no waitlist and you can recapture 80% of your initiation fee if you are a medallion member. (requires you to own in the community)
Bonita Bay has five 18-hole golf courses which is super appealing and the facilities are spectacular but with absolutely no way to skip the 5+ year wait list, it doesn't appeal to everyone.
Talis Park is super high-end, with little to no waitlist, and was totally returfed in 2023. If you don't mind only having one 18-hole golf course, Talis Park is an excellent choice.
Call, text, or send me an email if you'd like more details about these or any other Naples area communities. I'm here to help in any way I can.