What Areas in Estero Florida Had the Least Damage From Hurricane Ian?
Posted by Sean Lorch on Sunday, October 9, 2022 at 12:16 PM
By Sean Lorch / October 9, 2022
Comment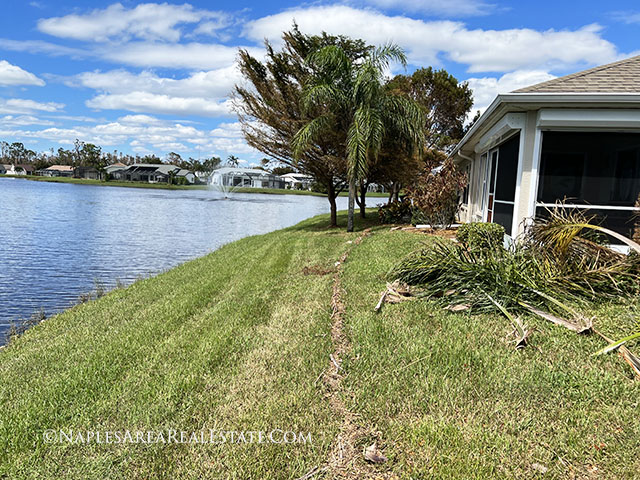 Hurricane Ian Waterline on Lakefront Villa in Estero, FL
The property above is in the Villas at Timber Lake in the Fountain Lakes development. The majority of Fountain Lakes is located above the floodplain. All reports have indicated that none of the dwellings in this neighborhood took on water, even the homes located within the floodplain. Marsh Landing is located just to the south of Fountain Lakes and also fared very well in Hurricane Ian. Both neighborhoods are located west of Rt 41 in Estero, FL.
General Comments on Flooding in Estero, FL During Hurricane Ian
The majority of Estero fared very well in Hurricane Ian. The areas that did not do well are in the FEMA Flood Zones within close proximity to the Estero River and Estero Bay. These bodies of water are directly connected to the Gulf of Mexico and rise almost immediately with the storm surge. These areas also have lower elevations making them even more vulnerable to flooding. Storm surge flooding did occur in these areas and some of the homes were breached.
Virtually all the neighborhoods in Estero stayed high and dry except the ones that meet the criteria above. With that said, there was some wind damage including torn screens & damaged lanai cage framing, missing shingles, and damaged landscaping.
Village of Estero Vs Estero Island
The Village of Estero is sometimes confused with Estero Island but they are completely separate. Estero Island is the land mass that the town of Fort Myers Beach is on. It is a barrier island that actually shields Estero. The Village of Estero is located on the mainland and is not an island. See map below.
Post-Hurricane Ian Due Diligence on Homes & Condos in Estero, FL
If you are interested in purchasing a property in Estero, FL I highly recommend the following:
•Learn whether or not the property you are interested in is located in any of the FEMA Flood Zones. If it is in a flood zone, that does not mean it will flood, but you should be vigilant. Conversely, just because a property is not located in a floodplain, that doesn't mean it won't flood. Overall the flood maps are a great indicator, but not the end-all-be-all. Most of the time they are dialed in, but there is a small percentage of properties in the floodplain that don't deserve to be, and vice-versa.
•Find out if the property you are interested in has any insurance claim history. This is a great way to learn more about how "high & dry" a property really is.
•Talk to the neighbors. I am often surprised at how forthcoming neighbors are. With that said, I have come across neighbors who are reluctant to provide information, but that speaks volumes in its own right. Talk to multiple neighbors if you can.
Conclusion on Hurricane Ian in Estero
Overall, most homes in Estero came through Hurricane Ian with minimal damage. With the right resources, it is possible to stay out of the floodplain in Estero--even west of route 41! I've always been a big believer in helping my clients buy in the neighborhoods they want while staying out of flood-prone areas. Reach out to me any time by clicking the contact button below or calling the phone # on the far top right of your screen. That is my personal cell and is not routed through a call center.
Related: What Areas in Naples, FL had the least amount of damage from Hurricane Ian?
Available Homes For Sale in Estero, FL