How Much Are Homes in Fountain Lakes of Estero, FL Selling For?
Posted by Sean Lorch on Sunday, June 4, 2023 at 9:46 AM
By Sean Lorch / June 4, 2023
Comment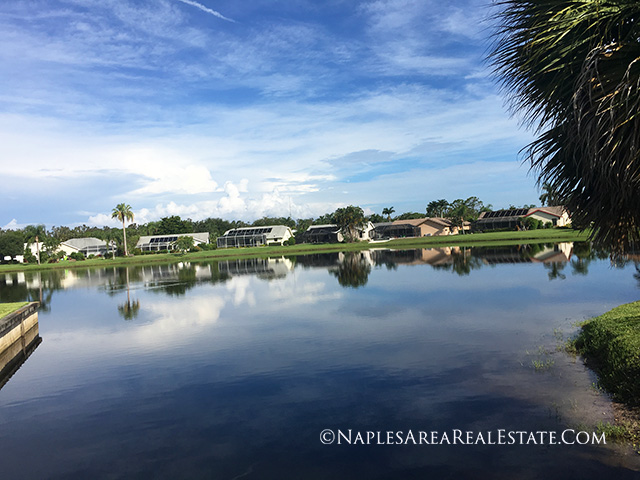 Hi neighbors! The purpose of the article below is to provide multiple years of sales data on single-family homes in Fountain Lakes. As a long-time Foutain Lakes resident and active real estate agent in the neighborhood, I regularly report on recent sales in the neighborhood. If you live in a single-family home here in Fountain Lakes, you are likely receiving my Fountain Lakes Real Estate Reports which are mailed out every other month. If you are interested in selling your Fountain Lakes home or would just like to talk shop give me a call anytime at 239-298-6760. I offer negotiable rates to Fountain Lakes homeowners.
Available Fountain Lakes Homes
Median Fountain Lakes Home Price By Year:
2020: $325,000
2021: $366,750
2022: $530,000
2023: $547,500 as of 6/4/23
2023 as of 6/4/23

As of 6/4/23, there have been 8 sales of single-family homes reported in the SWFLA MLS. This is well below average as there just hasn't been very much for sale. What's not below average is the median sales price is up to $547,500.
2022
2022 Stats For Single Family Homes in Fountain Lakes, Estero, FL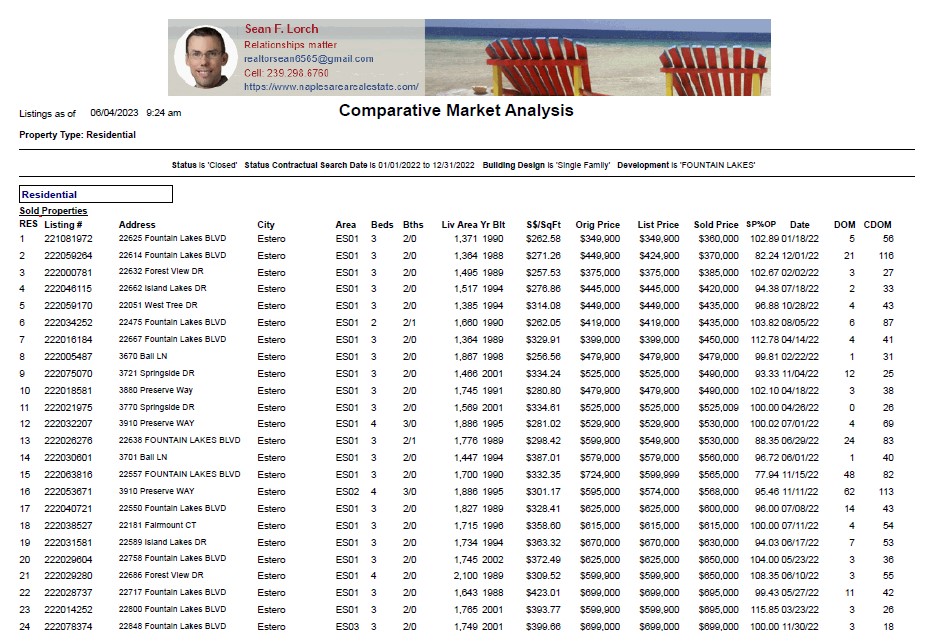 Notes on 2022 Single-Family Home Sales in Fountain Lakes
As illustrated above, 24 single-family homes sold in 2022 in Fountain Lakes. This is down from 2021 when there were 36 sales. The median sales price however was $530,000 in 2022 which is sharply up from $366,750 in 2021.
2021
How Much Did Fountain Lakes Home Values Go Up in 2021?
The average price per square foot in Fountain Lakes skyrocketed almost 21% in 2021 compared to 2020. Homes in 2020 sold for an average of $183 per square foot compared to $221 per square foot in 2021. The average sales price was $328,000 in 2020 compared to $380,000 in 2021 which is a 16% increase. Price per square foot tends to be a better indicator as it adjusts for differences in the size of the homes that sold where average sales price does not. For example, the average size home that sold in 2020 was 1,809 sqft versus 1,744 sqft in 2021 which impacts the average sales price.
How Long Did it Take For Fountain Lakes Homes to Sell?
The average time from "list date" to "contract date" dropped from 63 days in 2020 to just 20 days in 2021. The median time from list date to contract date in 2021 was just 5 days! On the charts below this stat is referred to as DOM. Keep in mind that, per local MLS rules, realtors have 72 hours to mark a property "pending" aka "under contract" so the actual days on market time is a bit less than reported. Often times a deal is struck and the listing agent is waiting on initials or earnest money before they mark the property pending. This explains why sometimes you see a property online that appears to be available only to find out it's actually not available.
How Many Single Familly Homes Sold in Fountain Lakes in 2021?
36 homes sold in Fountain Lakes in 2021 versus 24 in 2020. This does not count any "off-market" sales that may have closed.
2021 Stats For Single Family Homes in Fountain Lakes, Estero, FL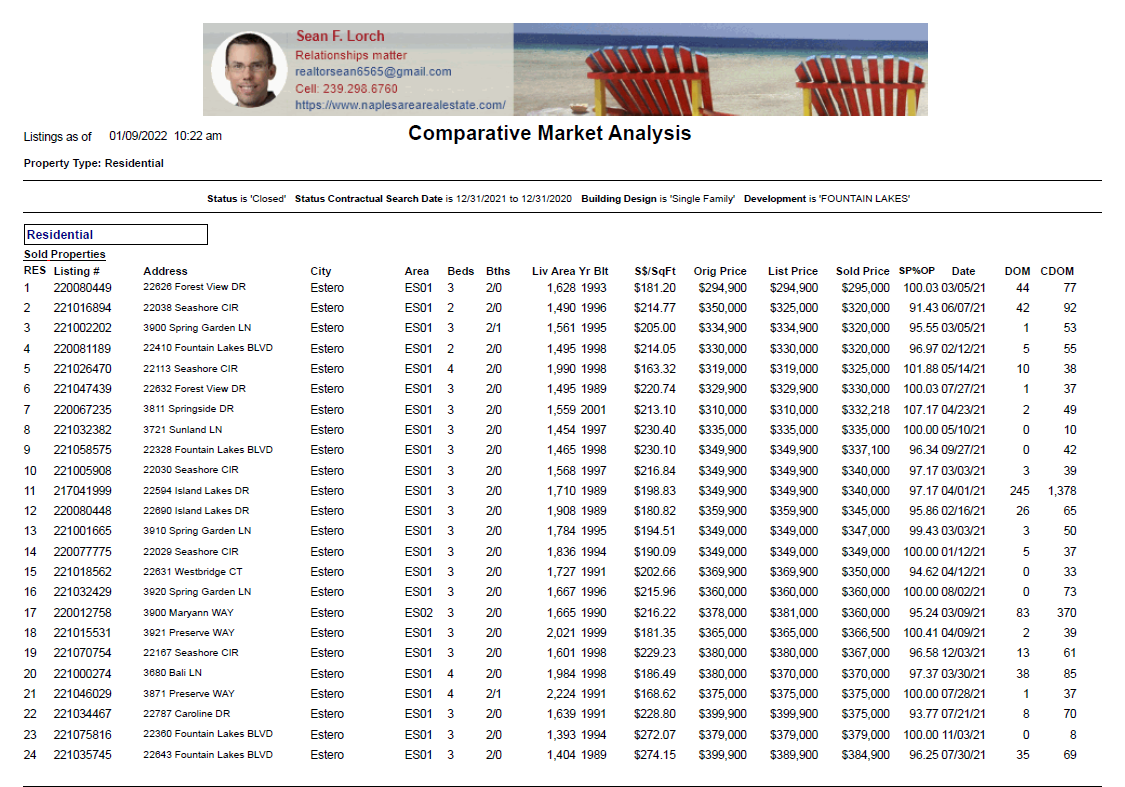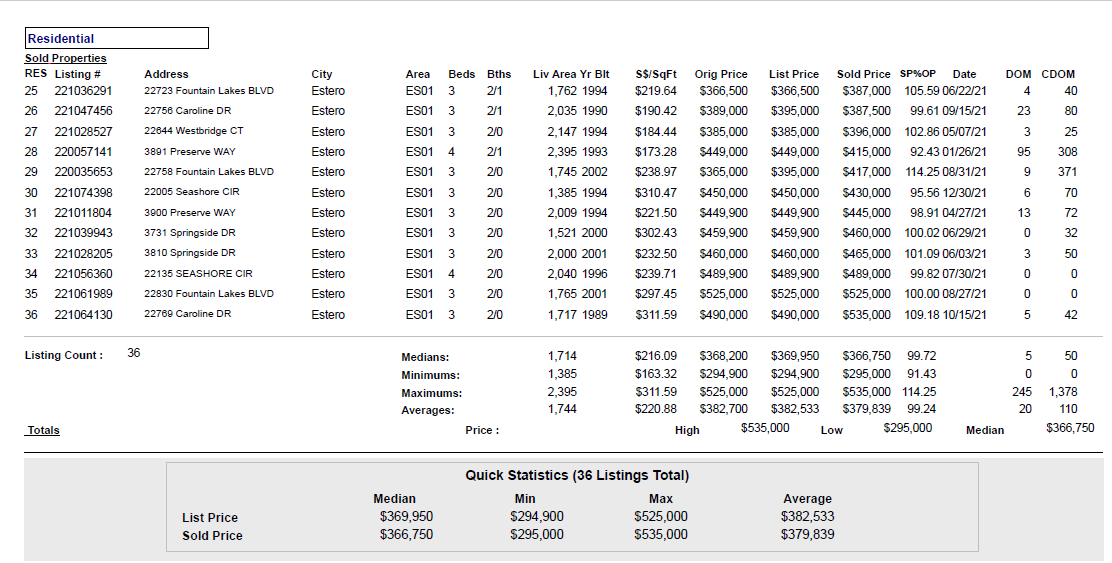 2020
2020 Stats For Single Family Homes in Fountain Lakes, Estero, FL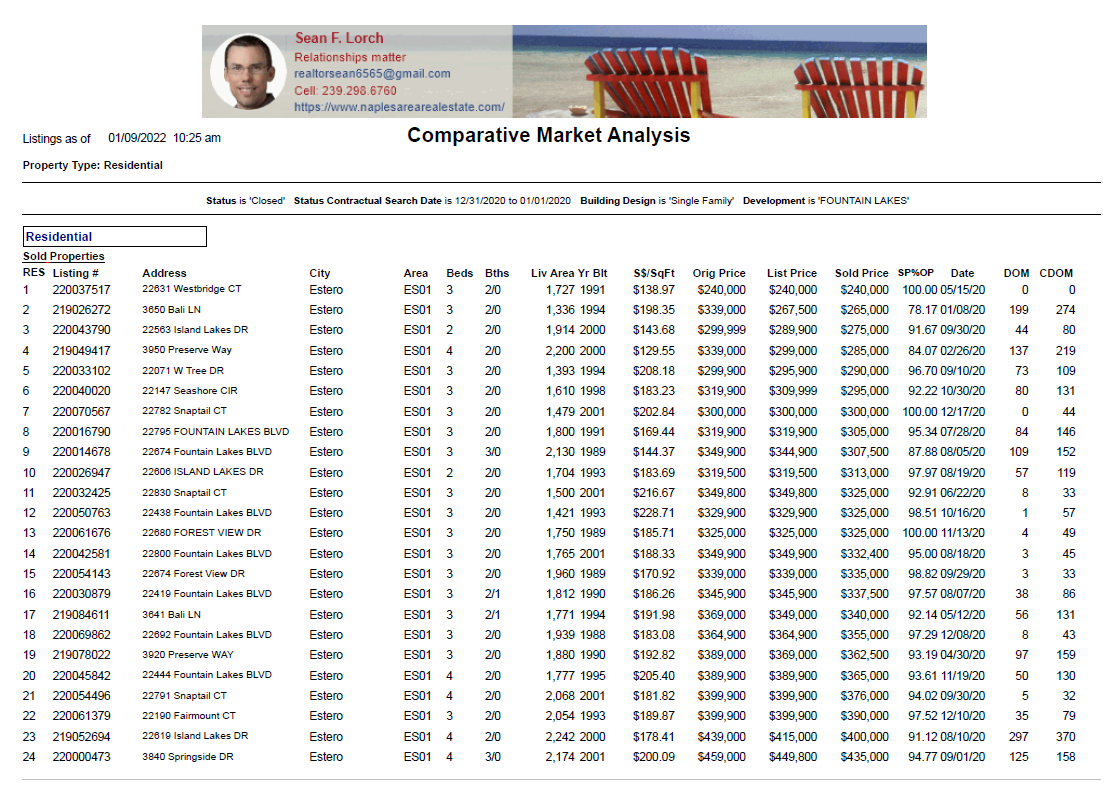 All stats provided in this report are believed to be accurate but are subject to error. The SWFL MLS was the source for this information.