How Much Are The Marsh Landing Villas Selling For?
Posted by Sean Lorch on Sunday, December 5, 2021 at 12:47 PM
By Sean Lorch / December 5, 2021
Comment
What a year 2021 was for real estate here in Estero, FL! As an active real estate agent in Marsh Landing & Fountain Lakes, I wanted to take a minute to report all the 2021 closed villas in Marsh Landing. It is December 5th, 2021 as I write this, and there are currently no pending Marsh Landing villas in the MLS. Since there will be no more closings this year, I am able to post this ahead of the new year. There are currently two pending single-family home sales in Marsh Landing, so I will wait until the new year to report the single-family home closings. View our main Marsh Landing page for community pictures, available listings and more information on the community.
So How Much Did the Marsh Landing Villas Sell For in 2021?
There were a total of 5 sales reported in the SWFLA MLS ranging from $335,000 to a record-setting $435,000. As an FYI, I was the listing agent on the $435,000 sale--so if you are thinking of selling, I would be happy to share with you how I accomplished this record-setting sale. I can be reached at 239-298-6760.
23188 Grassy Pine Dr sold for $400,000 on 7/30/21
23248 Grassy Pine Dr sold for $385,000 on 8/2/21
23000 Grassy Pine Dr sold for $335,000 on 8/10/21
23165 Grassy Pine Dr sold for $435,000 on 9/28/21
23054 Grassy Pine Dr sold for $369,000 on 11/15/21
See chart with 2021 Marsh Landing sales and stats below: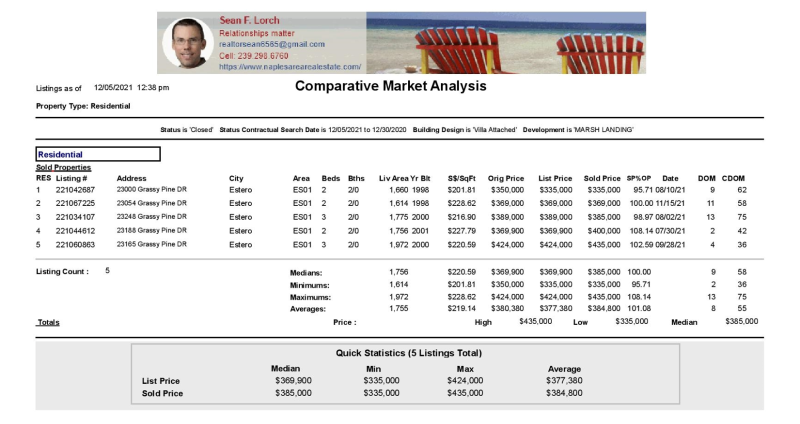 How Did Marsh Landing Villa Sales in 2021 Compare to 2020?
There is a HUGE difference in the prices of Marsh Landing villas from 2020 to 2021. There were 3 sales reported in 2020 in the SWFLA MLS.
23041 Grassy Pine sold for $252,000 on 3/12/20
23056 Grassy Pine sold for $305,000 on 10/20/20
23011 Grassy Pine sold for $230,000 (needed work) on 12/29/20
What I Like About the Marsh Landing Villas:
All the villas in Marsh Landing offer either 3 bedrooms or 2 bedrooms + den, and the den can easily be converted into a 3rd bedroom by adding a closet. They also feature 2 bathrooms, 2 car garages, and vaulted ceilings. Some of the villas are right on the water, and some have private swimming pools! Another feature that some of the villas offer is a patio with a screened-in lanai.
Interested in Purchasing or Selling a Marsh Landing villa?
Call/text me at 239-298-6760 or submit an inquiry which will go straight to my inbox. I live next door to Marsh Landing in Fountain Lakes, and regularly have new listings and new buyers in both neighborhoods.
-Sean Lorch
Recently Sold Marsh Landing Villas Below. This Dynamically Updates to the Most Recent 12 Month Period so as Time Goes By, Sales Older Then 12 Months Will drop off and New Sales Will Populate. Click Here to View Available Marsh Landing Listings.
Sold on 11/13/2023 23000 Grassy Pine Dr
Estero, FL 33928
Sold on 8/11/2023 23141 Grassy Pine Dr
Estero, FL 33928
Sold on 6/7/2023 23011 Grassy Pine Dr
Estero, FL 33928