Naples Beachfront Condos: Park Shore Vs Pelican Bay Vs Bay Colony
Posted by Sean Lorch on Monday, October 4, 2021 at 10:06 AM
By Sean Lorch / October 4, 2021
Comment
Overview of Beachfront Condos in Park Shore, Pelican Bay, and Bay Colony
So you're interested in making your lifelong dream of purchasing a beachfront condo a reality and you want to make sure you pick the perfect area. You're dialed in on Naples, FL for all the obvious reasons and now it's just a matter of finding the perfect beachfront neighborhood. For today's article, I will be discussing the communities listed above as they are very popular options here in Naples. I will save Coquina Sands, Moorings, and Vanderbilt Beach for another article. Although this piece will give you some major insight, it is highly recommended that you tour these communities in person so you can be extra sure that you pick the best one for your lifestyle. I am a laid-back, no-pressure real estate agent on the beach here in Naples, and with an appointment, I'm available to give you a no-obligation tour of these areas and show you available condos. You can always call or text me with tour requests or general questions at 239-298-6760 or submit an inquiry on this site which will go directly to me.
Park Shore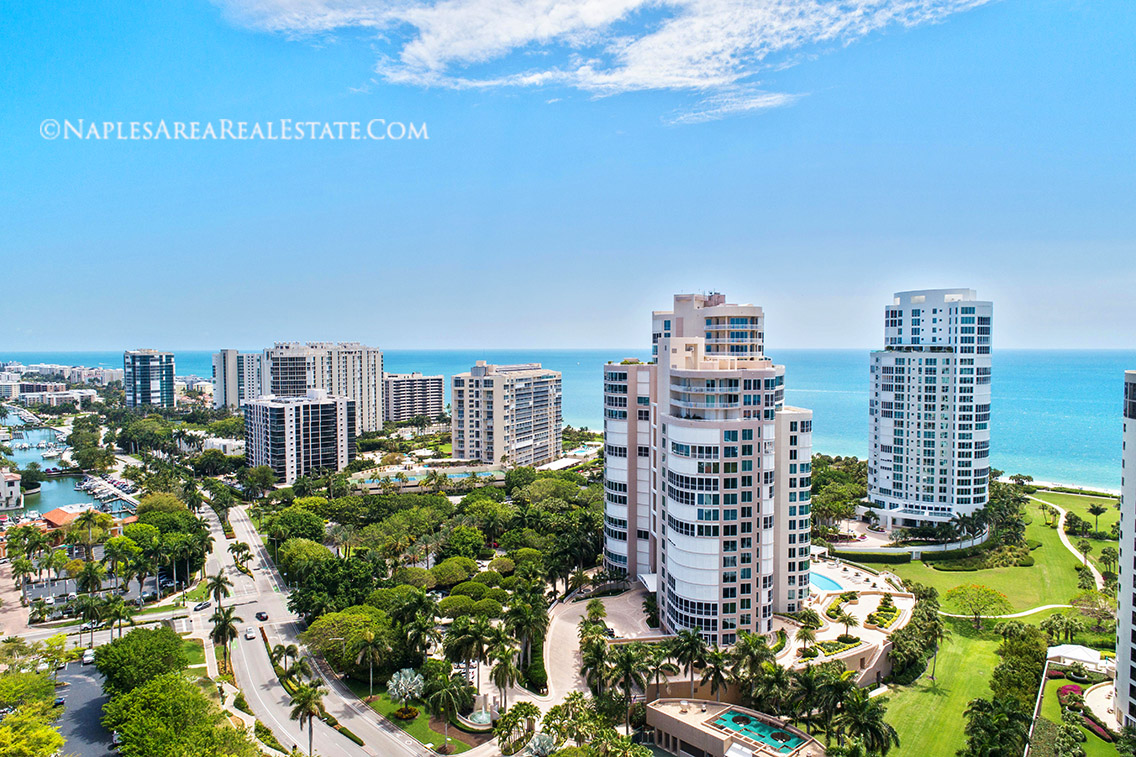 Park Shore General
Park Shore, pictured above, is an excellent option that has many advantages. There are a total of 25 Park Shore beachfront condo buildings and they are spaced out nicely with dedicated parks--thus the name Park Shore. The beachfront buildings are either 1st position on the sand or 2nd position on the sand and in either scenario, you have a 1-minute walk or less from the elevator to the beach. Another huge advantage for Park Shore is there is a quaint, charming boutique shopping mall known as Venetian Village built into the neighborhood. It is located on the opposite side of Gulf Shore Blvd N from the beachfront condo buildings. This allows folks to walk to their choice of seven restaurants, a Ben & Jerry's ice cream shop, and a ton of boutique retail stores. Periodically, there is even live entertainment here. Park Shore is also a boating community with Park Shore Marina and Venetian Bay Yacht Club both within walking distance of the beachfront condo buildings. Motorized boats are available at both locations. Pelican Bay and Bay Colony are not boating communities to the same extent as they do not offer motorized boating. With that said, you can kayak, canoe, and sailboat in Pelican Bay. If you want to be picky, one disadvantage to Park Shore is there is not a beach club so you have to bring your own chairs & umbrellas. Most people don't mind since the buildings are such a short walk to the sand.
Park Shore Beachfront Condos
In the past year, the beachfront condos in Park Shore have sold for $650,000 to $9,750,000 with a median price of $1,650,000. Currently, there is a penthouse in Park Shore's most prestigious building, Regent, listed for $16,900,000. It is 12,050 square feet and has 360-degree views with floor-to-ceiling windows. Click here to view it as well as all the currently listed Park Shore beachfront condos.
Pelican Bay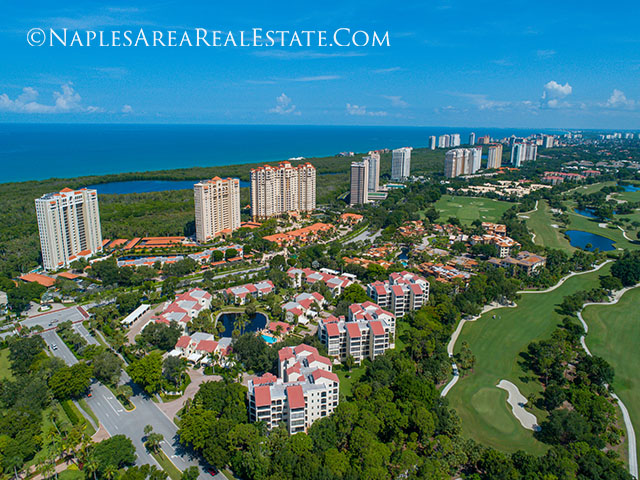 Pelican Bay General
Pelican Bay, pictured above, consists of 20 highrise condo buildings, and although I am considering them "beachfront" there is a section of mangroves in between the buildings and the sand, so it is not as short of a walk to the sand as Park Shore and Bay Colony. There are two major redeeming qualities, however. The first being there is a tram system that takes you to the beach, so if you're not up for the 10-minute walk you can hop on an oversized golf cart and they will take you there in a couple of minutes. The tram service runs throughout the day every day and arrives every couple of minutes at each tram stop. The 2nd redeeming quality of Pelican Bay is there is a full-service beach club so you can come empty-handed and there will be beach chairs and umbrellas waiting for you. You can even get food and beverage service with your toes in the sand! This brings me to another advantage of Pelican Bay: they have two Gulf-front restaurants which are exclusive to Pelican Bay owners! Marker 36 is the more formal of the two and Sandbar is more casual. Both of them have amazing panoramic views of the Gulf of Mexico, full-service bars, and TVs. Pelican Bay also offers social events, beach yoga, a private 27 hole golf course, and a ton of other amenities.
Pelican Bay Beachfront Condos
In the past year, Pelican Bay Beachfront condos have sold for $465,000 to $9,000,000 with a median sales price of $1,400,000. Click here to view currently listed Pelican Bay Beachfront Condos.
Bay Colony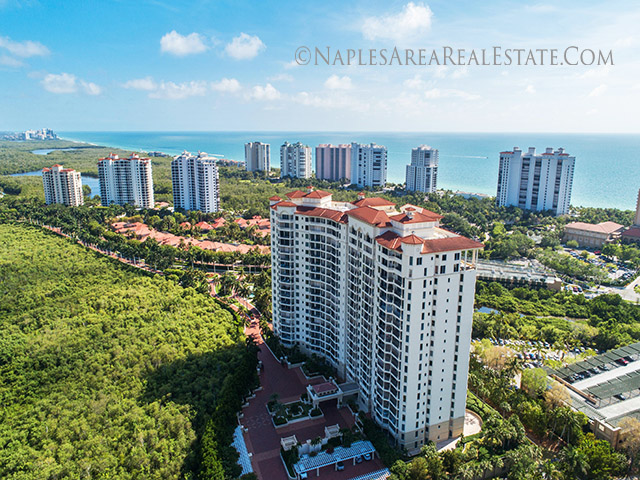 Bay Colony General
Bay Colony is actually part of Pelican Bay and is considered its most prestigious section. Bay Colony has six highrise condo buildings that are "on the sand" and 4 highrise condo buildings that are near the sand. The major advantage of Bay Colony is that in addition to being on the sand they also have a beach club that is walkable from all the buildings. The Bay Colony Beach Club is located in between Remington and Windsor which are Bay Colony's two most prestigious buildings with Windsor holding the #1 spot. All of Bay Colony is gated and guarded and only some of Park Shore and Pelican Bay's buildings can say the same. Bay Colony owners have full access to all of Pelican Bay's amenities including the Gulf-front restaurants. The only real disadvantage of Bay Colony, if you want to call it that, is that it is the most expensive of the group. See details below.
Bay Colony Beachfront Condos
The "on the sand" Bay Colony condos that have sold in the past year have gone for between $1,875,000 and $9,000,000 with a median price of $3,850,000. Click here to view available Bay Colony Beachfront Condos
Conclusion
Park Shore, Pelican Bay, and Bay Colony are all excellent options with differences that you should be aware of before pulling the trigger. As I mentioned, with an appointment, I'm available to show you around so you can get the "lay of the land" and see the available condos first hand. Reach out anytime, and I promise to be laid back and not pushy. Thank you, Sean Lorch 239-298-6760 Voice Text.
Available Park Shore Beach Condos, updated every day:
Available Pelican Bay Beachfront Condos, updated every day:
Available Bay Colony Beachfront Condos, updated every day: