Virtual Tours of Naples Botanical Gardens, Beaches in Florida, and More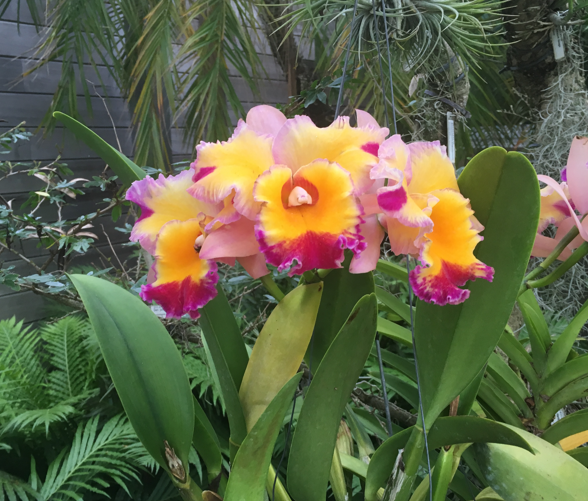 Florida is a beautiful state to call home, from the beaches of Naples to the coastal waters teeming with marine life. Florida is famous for its white-sand beaches and beautiful ocean views, but there's also a lot to see farther inland, which you can explore either in person or online. For instance, the Naples Botanical Garden is home to a wide variety of tropical plants, from orchids to kapok trees, but if you can't make it here to see them in person, you can see the garden online anytime with their webcam.
Naples Botanical Garden Live Cam
Enjoy the beautiful views of the tranquil environment of the Naples Botanical Garden in Naples, Florida.
This unique habitat is the largest subtropical wilderness area in America.
Visit the Naples Botanical Garden in person to see all of the natural wonders it has to offer.
Naples Zoo at Caribbean Gardens
Bring your family to see a tropical garden filled with fascinating animals, like toucans, lemurs, and pythons.
Learn about some of the beautiful beaches waiting to be explored in Naples.
Sea turtles live all around the Florida coast, and the Loggerhead Marinelife Center operates a hospital to help injured turtles get well. This webcam shows the facility's patients being cared for before their release back into the wild.
360° Virtual Tours: St. Pete, Clearwater, Madeira, and Gulfport Beaches
Explore Florida's beautiful beaches and other attractions with these virtual tours.
The Lowe Art Museum showcases a collection of Renaissance and Greco-Roman antiquities as well as ancient Asian, African, and Native American pieces.
This museum is part of a 20-acre park that displays sculptures, collections, and architectural elements.
The Vizcaya Museum and Gardens is a historic estate that includes manicured formal gardens and a Mediterranean-style villa filled with antiques and artwork.
The Wolfsonian at Florida International University is a museum, library, and research center that showcases the power of art and design.
The Frost Art Museum is located on the campus of Florida International University. It has a collection of more than 6,000 objects that focuses on American and Latin American art.
The Coral Castle is a sculpture garden built entirely by one man in secret, using more than 1,000 tons of stone. The result is an unusual and intriguing site to see.
Background Information on Naples, Florida
Learn more about the beautiful and charming city of Naples, Florida.
Five Interesting Facts About Naples, Florida
Naples is famous for its golf courses as well as its beaches. In fact, it's been called "the golf capital of the world."
There is always so much to learn about Florida, from its history to its geography.
Florida was originally settled by hundreds of thousands of Native Americans.
Interesting Geography Facts About Florida
Learn more about Florida's geography and why it has a warm climate.
With its surrounding oceans and its beautiful coast, Florida is home to a diversity of marine life.
Florida has many different habitats, from coral reefs to sandy hills, and thousands of species make their home here.
There are many shallow coral reefs near Florida's coast that provide food and shelter for plants and animals.
Take a look at the Florida Keys anytime with this webcam.
Florida Beach Cams: Live Webcams From Florida
If you can't get to the beach today, watch the waves roll in with a Florida webcam.
The Withlacoochee State Trail is a 46-mile-long trail that follows the Withlacoochee River. This is the perfect place for cycling and walking.
The Ocala National Forest is the perfect place for all outdoor lovers. There are natural pools for swimming and canoe runs for paddling as well as rare plants to observe.
Myakka River State Park in Sarasota is one of the largest state parks in Florida and should be on everyone's bucket list.
You might think of Florida as a good place to find seashells, but in some places, you can also find fossils.
Mote Marine Laboratory and Aquarium
The Mote Marine Laboratory and Aquarium are devoted to studying and teaching people about the marine life of Florida.
You'll find peaceful beaches and great fishing spots as well as marshes teeming with wildlife in this park.
Jacques Cousteau helped to put this park on the map when he filmed the manatees here.
Weeki Wachee Springs State Park
See live mermaids at play and take a river boat cruise at this unique park.
This wolf preserve allows you to see real wolves up close.
Explore the only Florida state park where you can tour dry caves.
John Pennekamp Coral Reef State Park
This is the nation's first underwater state park, established to protect the only living coral reef in the contiguous United States.
NASA's Kennedy Space Center showcases the history of space travel.
Visit the former home of the famous novelist Ernest Hemingway in person or view it online.
30 Things Florida Is Known For
Florida has more than just beaches: It's also famous for things like key lime pie, oranges, theme parks, and alligators.
SeaWorld offers plenty of opportunities to see marine wildlife and is a great place for families to visit.
By: Sean Lorch